Overview of FY21-22
UBC Okanagan total energy consumption over the last fiscal year (FY21-22) was 159,552 GJ compared to 135,700 GJ for FY20-21, a 17.60% year over year increase leading to a 22.70% increase in total campus energy utility cost from $2.66M in FY20-21 to $3.26M in FY21-22. FY21-22 faced extreme weather events i.e. -29°C on 27th December 2021 and 44°C on 29th June 2021, increased occupancy as campus community returned back to campus and volatile natural gas market with around 30% increase in Natural Gas costs.
The total campus energy consumption includes
40% increase in campus Electricity consumption i.e., from 27,149 MWh in FY20-21 to 31,333 MWh in FY21-22, and
10% increase in campus Natural Gas consumption i.e., from 37,965 GJ in FY20-21 to 46,752 GJ in FY21-22.
In FY21-22, Heating Degree-Days (HDD) remained relatively consistent at 3,820 degree-days compared to 3,729 degree-days in FY20-21 whereas Cooling Degree-Days (CDD) increased by around 60% from 330 degree-days in FY20-21 to 525 degree-days in FY21-22.
Energy Team has been actively working on developing appropriate policies and guidelines that assist in meeting long-term campus energy and carbon goals through the following initiatives:
Strategic Energy Management Plan (SEMP): Implement potential demand-side energy conservation measures (ECMs) to reduce utility costs and achieve Climate Action Plan (CAP) 2030 goals
Integrated Energy Strategy: Advance high-level energy strategy to reach a future state with a view of modernization, renewal, and growth to serve both existing and new loads anticipating campus growth consistent with UBC Okanagan goals, aspirations and resiliency
UBCO Net Zero Energy Ready: Update the five archetype models from the previous UBC Net Positive Modelling Study using Okanagan climate files and building archetypes that are representative of UBCO new construction with TEUI, TEDI, GHGI results for each archetype to feed into UBCO Green Building Action Plan
Building Management System: Work with UBCO BMS service providers to fix the platform deficiencies, resolve integration issues between backend platforms (Desigo, SBS bridge, Advantage Navigator etc.) to maintain BMS database, add missing trends on the key hydronic graphics
Energy Monitoring and Data Management Platform: Develop an intelligent data driven energy monitoring and management system for micro communities using statistical and advanced data analysis methods
Campus Operations and Academics Collaboration: Work with UBCO academicians and researchers on various initiatives that feed into UBCO Multi-hazard Assessment study

Campus Energy Data analytics platform – ongoing collaboration
Wastewater monitoring for campus community – potential
West campus land development – potential
Other: Technical reviews and setting goals, targets and strategies as early as possible for future campus expansions, updating the infrastructure HVAC Asset Management database and updating Technical Guidelines intended to provide minimum standards for campus projects.
In terms of energy efficiency studies/ projects, a few projects have been completed/ in progress like Lab Demand Controlled Ventilation, Recommissioning of Arts Building, lighting projects, WiFi threshold recalibration, and other monitoring improvements. Energy Team related activities such as energy conservation measure implementation, equipment upgrade, personnel funding, new construction etc. in the past fiscal year received around $330,000 in FortisBC incentives. Year over year Energy Team has identified and secured rebates up to $95,000 which otherwise would have been missed benefit.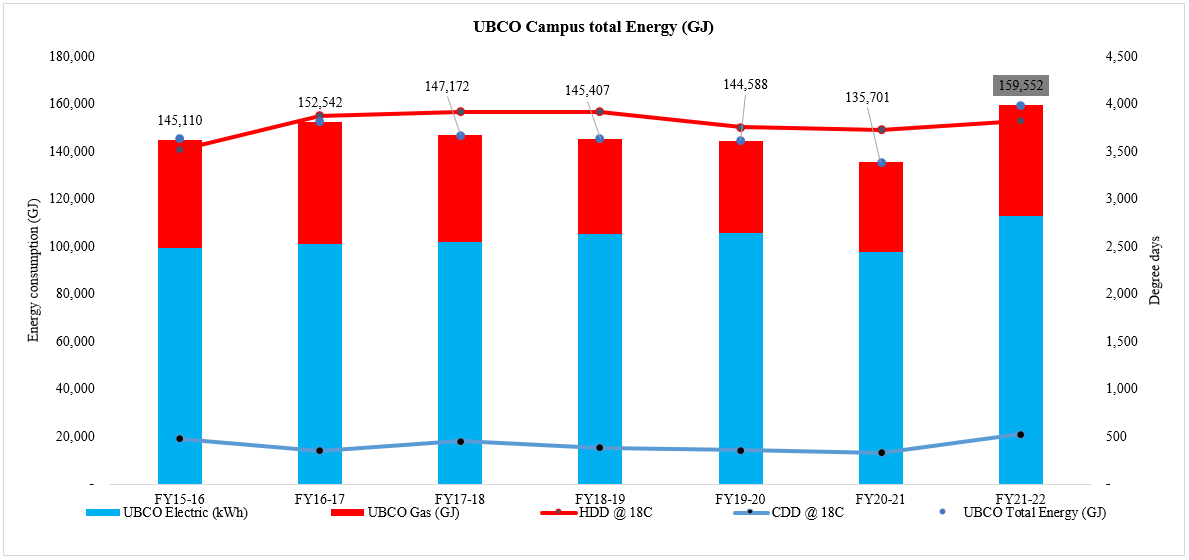 Previous Quarterly Reports

FY22-23 Q1 Quarterly Report
FY21-22 Q3 Quarterly Report
FY21-22 Q2 Quarterly Report
FY21-22 Q1 Quarterly Report
FY20-21 Q3 Quarterly Report
FY20-21 Q2 Quarterly Report
FY20-21 Q1 Quarterly Report
FY19-20 Q3 Quarterly Report
FY19-20 Q2 Quarterly Report
FY19-20 Q1 Quarterly Report
FY18-19 Q3 Quarterly Report
FY18-19 Q2 Quarterly Report
FY18-19 Q1 Quarterly Report
FY17-18 Q3 Quarterly Report
Previous Annual Reports
FY2019-2020 Annual Report
FY2018-2019 Annual Report
FY2017-2018 Annual Report
FY2016-2017 Annual Report