Overview of FY22-23
UBC Okanagan total energy consumption over the last fiscal year (FY22-23) was 166,988 GJ compared to 160,047 GJ for FY21-22, a 4% year over year increase leading to a 6.16% increase in total campus energy utility cost from $3.26M in FY21-22 to $3.46M in FY22-23. Greenhouse gas emissions remained relatively consistent at 2,403 tCO2e/ year in FY22-23 compared to 2,387 tCO2e/ year in FY21-22.
The total campus energy consumption includes
25% increase in campus Electricity consumption i.e., from 31,471 MWh in FY21-22 to 33,752 MWh in FY22-23, and
72% reduction in campus Natural Gas consumption i.e., from 46,752 GJ in FY21-22 to 45,481 GJ in FY22-23.
In FY22-23, Heating Degree-Days (HDD) remained relatively consistent at 3,908 degree-days compared to 3,820 degree-days in FY21-22 whereas Cooling Degree-Days (CDD) reduced by around 18% from 525 degree-days in FY21-22 to 432 degree-days in FY22-23.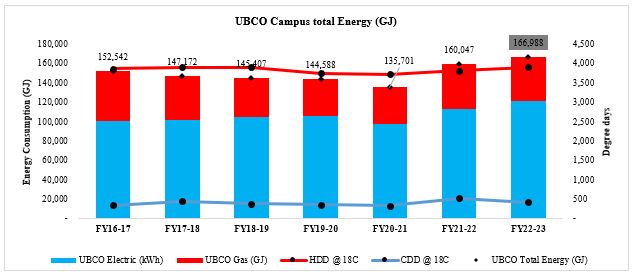 Highlights
DES energy consumption reduced by 10% (3,070 GJ gas reduction and 39 MWh increased electricity consumption) in FY22-23 compared to FY21-22, with similar thermal energy delivered to the buildings. This is primarily due to a few energy conservation efforts i.e., GEO gas boiler setpoint adjustment, GEO cooling tower sequencing update, and increased usage of GEO open loop system for heating and cooling.
University House electricity consumption increased by 70% (63 GJ or 17.6 MWh increase) as a result of renovation; Innovation Precinct 1 (567 GJ increase) and Innovation Annex 1 (104 GJ increase) energy consumption increased by 15% as a result of renovations and increased occupancy; Gymnasium (722 GJ increase), Library (680 GJ increase) and OM1 (42 GJ increase) energy consumption increased by 15% as a result of increased occupancy; energy consumption for ADM (606 GJ increase), CCS (306 GJ increase), ASC (708 GJ increase), RHS (326 GJ increase), PGF (46 GJ increase), COM (82 GJ increase) on an average increased by 5%; energy consumption for FIP (200 GJ decrease), EME (407 GJ decrease), UNC (285 GJ decrease), ART (247 GJ decrease), UCH on an average reduced by 3% (51 GJ decrease); SCI (1,678 GJ decrease) energy consumption reduced by 9% as a result of high temperature to low temperature coil replacement and demand-controlled ventilation measures implemented.
Residential energy consumption witnessed a 10-30% increase in FY22-23 compared to FY21-22, with the exception of the Purcell and Similkameen buildings at 4% increase. This is likely due to pre-pandemic occupancy levels for these two buildings in FY21-22.
Energy Team has been actively working on developing appropriate policies and guidelines that assist in meeting long-term campus energy and carbon goals through the following initiatives:
Integrated Energy Strategy: Advance high-level energy strategy to reach a future state with a view of modernization, renewal, and growth to serve both existing and new loads anticipating campus growth consistent with UBC Okanagan goals, aspirations and resiliency

Building Energy Targets: Develop energy targets for net positive ready buildings at Okanagan campus, driving sustainable construction and operations towards a greener future
Strategic Energy Management Plan (SEMP): Implement demand-side energy conservation measures (ECMs) to reduce utility costs and achieve Climate Action Plan (CAP) 2030 goals
District Energy Strategy: Advance the strategy enabling flexible support for renewal and expansion while ensuring simple building connections and delivering sustainable, affordable, and resilient service to campus customers
Campus-Wide High Voltage Master Electric Plan: Analyze the current campus-wide high voltage electrical distribution systems and develop a strategy to best support the campus's future needs

Building Management System: Partner with BMS providers to advance campus initiatives, address platform deficiencies, resolve integration issues, maintain the BMS database, and enhance key graphics and trends
Utilities portfolio: In addition to monitoring the portfolio, Energy Team collaborates with stakeholders and consultants to ensure smooth utility service delivery, negotiating contracts for favorable terms and compliance with regulations.
Energy Monitoring and Data Management Platform: Develop an intelligent data driven energy monitoring and management system using statistical and advanced data analysis methods. Energy Team is currently exploring Skyspark tool to advance this initiative
Campus Operations and Academics Collaboration: Work with UBCO academicians and researchers on various initiatives that feed into UBCO Multi-hazard Assessment study

Campus Energy Data analytics platform – complete, in review
District energy modelling and optimization – in progress
Wastewater monitoring for campus community – potential
West campus land development – potential

New campus construction: Energy Team actively participates in the design and construction process of new campus buildings, working diligently to ensure that these structures adhere to the campus technical guidelines and align with the overarching Whole Systems Plan. Our primary objective is to ensure the seamless integration of sustainable practices and energy-efficient principles into the design and construction of these new buildings
Other: Technical reviews and setting goals, targets and strategies as early as possible for future campus expansions. Update Technical Guidelines intended to provide minimum standards for campus projects.
In terms of energy efficiency studies/ projects, a few projects have been completed/ in progress like Occupancy-based Demand Controlled Ventilation for ASC and FIP, IAQ-based Demand Controlled Ventilation for SCI, Recommissioning of EME, LED lighting upgrade for PGF, waste heat recovery from strobic exhaust for SCI, Wi-Fi threshold recalibration, and other optimization and monitoring improvements. Energy Team related activities such as energy conservation measure implementation, equipment upgrade, Energy Specialist program, new construction etc. in the past fiscal year received around $265,000 in FortisBC incentives.
Previous Quarterly Reports
FY22-23 Q1 Quarterly Report
FY21-22 Q3 Quarterly Report
FY21-22 Q2 Quarterly Report
FY21-22 Q1 Quarterly Report
FY20-21 Q3 Quarterly Report
FY20-21 Q2 Quarterly Report
FY20-21 Q1 Quarterly Report
FY19-20 Q3 Quarterly Report
FY19-20 Q2 Quarterly Report
FY19-20 Q1 Quarterly Report
FY18-19 Q3 Quarterly Report
FY18-19 Q2 Quarterly Report
FY18-19 Q1 Quarterly Report
FY17-18 Q3 Quarterly Report
Previous Annual Reports