Getting to Campus: Exciting Projects Begin
 Transportation Improvements, Pedestrian Access, Cycling Connections & Public Realm Improvements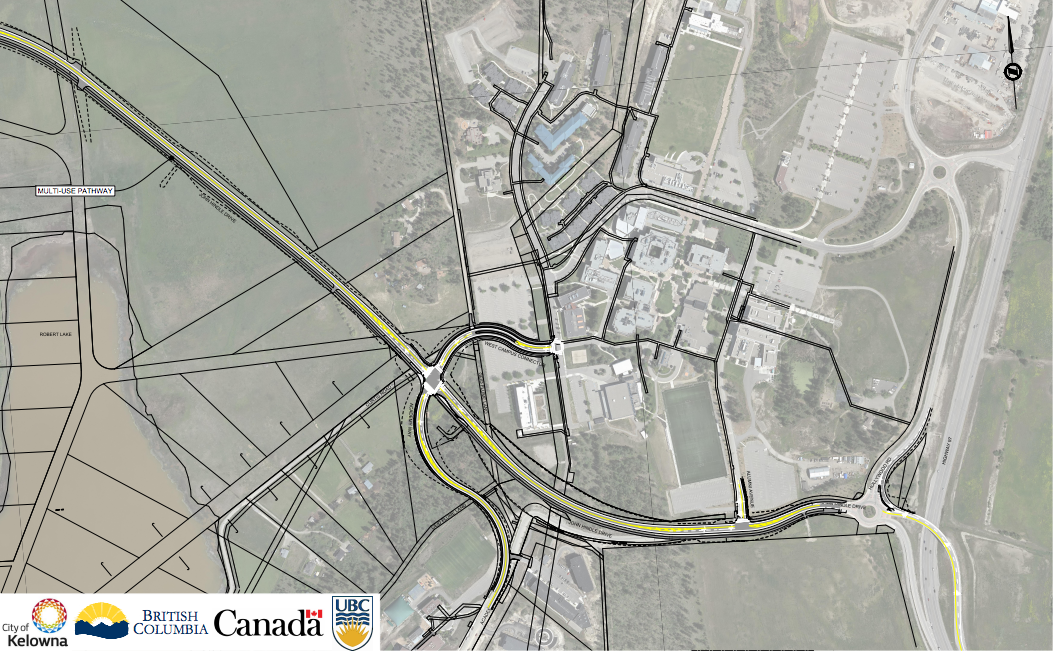 With the commencement of long awaited improvements to access to campus, significant construction activity will take place in and around our campus over the coming year and a half, as regionally significant infrastructure projects and exciting on-campus public realm improvements get underway. These include:
As  a result of these exciting and interconnected projects, access to campus will also be impacted during construction. The majority of on-campus construction is likely to occur during the summer months; however, construction around the periphery of campus will impact campus accessibility.
Timelines may change as construction moves ahead, and we will make sure to update the campus community on an ongoing basis, especially when significant changes are occurring.  Additional information with regards to municipal projects can also be found via the City of Kelowna.
The following provides a summary of Construction Activity in and around Campus.  Check back for further updates.
Project
ConstructionSchedule
Impact to Campus Community
Current Status/Updates
John Hindle Drive
Estimated Fall/Winter 2016 construction start

Limited access for all modes of transportation accessing campus from West and South.

As a result of construction activity, no access to campus will be permitted along Curtis Road private easement. Expect pedestrian detours in and around the John Hindle Drive and Academy Hill area.

Detailed design
Bulman Road Cycling Access
Summer 2016

Creation of Safe Cycling Access from Hwy 97

Completed
Academy Way Cycling Access & Connection to Sexmith Road
Fall 2016

Creation of new cycling route to campus from Sexmith Road

Under construction
West Campus Access & West Parking Lot reconstruction
Estimated May to September 2017 or May to September 2018

No access to Parking Lots C & G during construction
Alternative parking arrangement will be made available for those with Parking Passes in Lots C & G during construction

Detailed Design
University Way Pedestrianization Project
To be determined

Pedestrianization of University Way
Phase 1 project area will be in between UNC and Fipke Centre
Access to Parking lot F & A will be available
Access to west side of campus via new West Campus Access Road

 Fall 2016 – University WayRedesign Planning and Design Process Underway